Европейский учебный институт
МГИМО МИД России

Background
At the summit in Moscow in May 2005, the European Union and Russia agreed to investigate the means of promoting the EU related studies and training in Russia. Within the framework of the EU/Russia Common Space of Science and Education, the aim was to encourage the study of EU law, economy and politics, in accordance with the best practices in the EU, including training and retraining of government officials and post-graduate students. To achieve this the EU and Russia decided to found a European Institute at the appropriate Russian Institute in Moscow (MGIMO).
On 25 September 2006 the European Studies Institute (ESI) commenced its activities at the Moscow State Institute of International Relations-University (MGIMO-U) of the Ministry of Foreign Affairs.
The main goal of the ESI is to equip professionals engaged in the EU-Russia cooperation with a better knowledge and understanding of the European Union and EU-Russia dialogue for the benefit of both parties and their rapprochement.
ESI Structure
The ESI structure (fig. 1) comprises:
Governing Board
Bureau
Director
Board of Trustees
Academic Council
Chairs
Faculty
Administrative staff
Fig. 1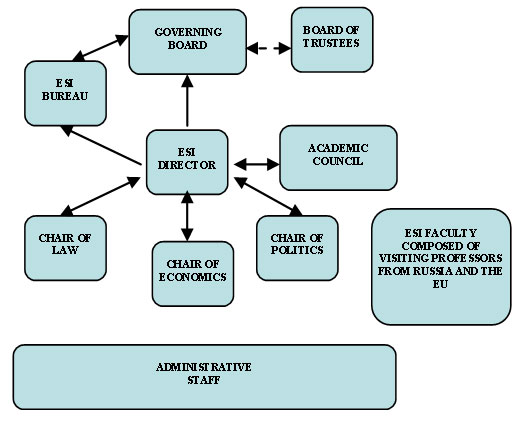 The ESI management body is the Governing Board. It consists of sixteen members: 8 Russians and 8 representatives of other European countries.
Training Programmes
The ESI training comprises:
Master's Programmes in EU law, economy and politics.
Short-term courses.
Seminars and conferences.
Master's Programme in EU Studies
A Master's Programme is a post-graduate (re-) training programme for Russian and EU civil servants; representatives of public and private companies, organizations and NGOs; postgraduate students and scholars in European integration.
Academic standards, training materials and methods will be compatible with the best practices of similar EU training institutions, such as the College of Europe in Bruges with which the ESI has established a close cooperation.
The Master's Programme starts in September and finishes next December. It is divided into three terms, lectures and seminars during the first two and writing of the thesis during the final one. Excellent students may be sent to an EU institution or country for traineeship during summer.
Classes take place from 17.30 to 21.50 every day from Monday to Friday with foreign language courses twice a week. Teaching methods include: lectures, seminars, practical assignments, case studies, role plays, etc.
Short-Term Courses
Taking into account the needs of Ministries and Agencies, the ESI provides short-term courses in European integration, inter alia:
A three-month training programme once a year, for at least 30 participants.
Shorter modular programmes – from 3 weeks to 2 months – twice a year, for at least 20 participants.
Faculty
The training programmes are delivered by highly-qualified Russian and EU professors from higher education institutions; experts in EU policy and institutions; and by Ministries' and Agencies' officials.
Students
The students on the Master's programme are Russian and foreign University graduates fluent in Russian and in one of the EU languages. Work experience and good knowledge of a European language is considered as an advantage for the ESI enrolment.
Students successfully completing the Master's Programme will be granted the State Master's diploma.
Conferences and seminars
The ESI conferences and seminars are designed to share experience and promote networking in the following fields:
Prospects for the development of EU/Russia relations;
The new EU-Russia Partnership and Cooperation Agreement (PCA-2);
Cooperation in the Common Space of Freedom, Security and Justice;
Competition in Europe;
Protection of intellectual property rights in the EU and Russia;
Protection of Human Rights in Europe - common European standards;
Energy policy of Russia and the EU;
Environment and energy in Europe;
EU-Russia cooperation in the international arena;
Prospects for building a EU-Russia common economic space.
Publications
The ESI will publish conferences' materials, manuals, training and research materials, textbooks and monographs.
The ESI networking
The ESI will cooperate with:
Russian Ministries and Agencies in order to select students for training programmes and to adapt the curricula to their needs;
Leading Russian and EU universities in order to develop the curricula and to exchange teachers and students;
The business community in order to re-train businessmen;
the EU Member-States and third countries in order to enrol their students in the ESI.
Next steps
Selection of students for the 2007-2008 Master's programme;
Recruitment of Russian and International lectures for the 2007-2008 Master's programme;
Creation of scholarship schemes for EU students;
Establishment of the Board of Trustees.
For more information:
Website: www.eurocollege.ru
Address: 119454, Moscow, Vernadskogo prospekt, 76, MGIMO (U), European Studies Institute.
Tel: +7 (495) 433-85-88, 434-17-10, 434-12-01
Fax: +7 (495) 433-85-88, 434-90-72, 434-45-91
Funding Institutions
RF Ministry of Foreign Affairs - €3M (www.mid.ru)
European Commission - €3M (www.delrus.cec.eu.int, www.ec.europa.eu)
Note: Financing is currently granted by the EU for an initial three-year period 2006-2009.